Commemorative Issue
The Central Bank of Belize launched a Commemorative Circulation Note in celebration of its 30th anniversary.
The $20 banknote depicts the majestic Jabiru Stork in flight and the Central Bank headquarters. In 1982 the Central Bank of Belize selected the Jabiru Stork in a standing position as its logo due to the impressive size, dignity and strength of its appearance. When the bird is in full flight these characteristics are retained and enhanced.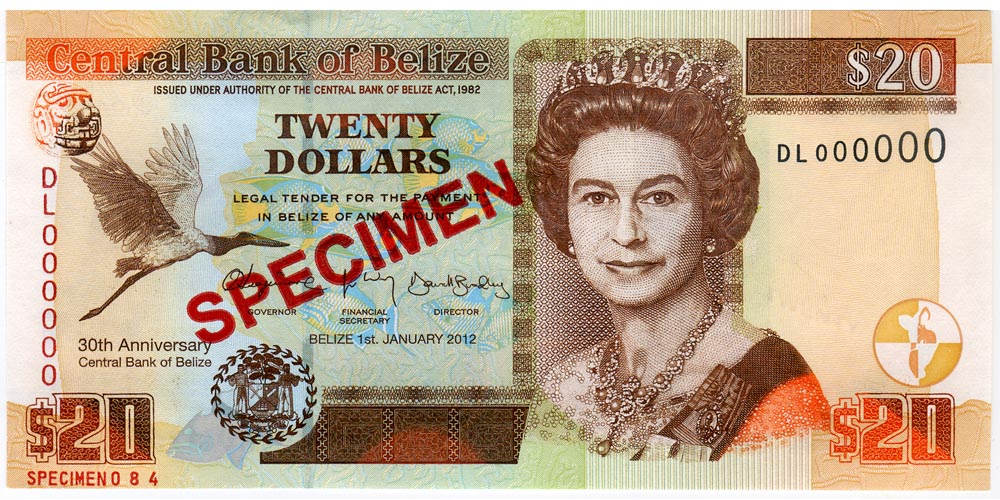 Actual Size: 140mm x 70mm
Theme: 30th Anniversary of the Central Bank of Belize
Front Image
Colours: Brown, chestnut and orange
On the right shows the novel numbering and the see-through feature which, when held up to the light, forms the complete design of the head of the Tapir, Tapirus bairdii, national animal of Belize. In the centre is a new portrait of Her Majesty Queen Elizabeth The Second, a design in blue and gold of the queen Trigger-fish, the queen Angel-fish, and Belize's Coat of Arms. The vignette on the left shows the majestic Jabiru Stork in flight, and directly below the Jabiru Stork is the commemorative text "30th Anniversary Central Bank of Belize". The Jade Head can be seen in the upper left corner and the Silver fish in the lower left corner.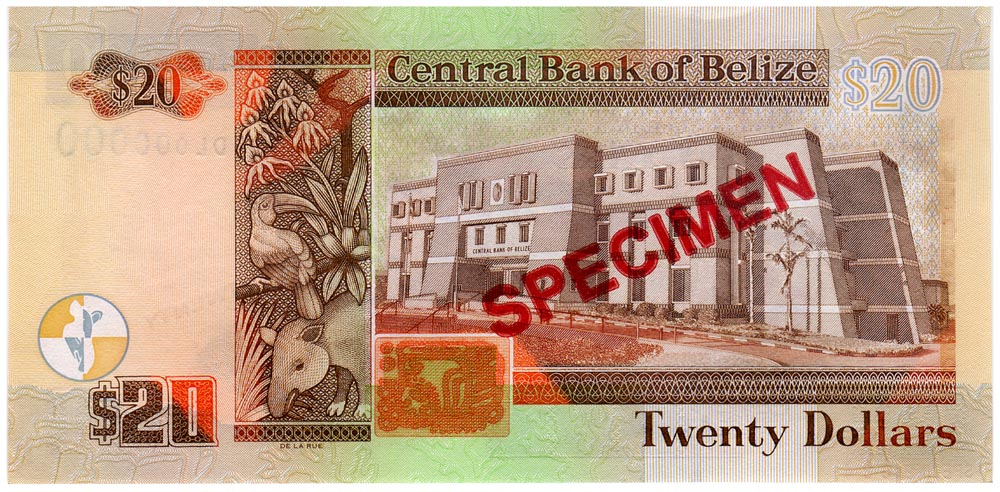 Back Image
Colours: Brown and orange
The main picture shows the Central Bank of Belize headquarters which opened for operations in 1998. One of Belize's architectural landmarks, the building was constructed on the theme of functional simplicity to provide a focal point and suitable setting for the institution that bears primary responsibility for oversight of Belize's financial system.